Technical Tips for video meetings
It seems a lot of people have already written a lot on the etiquette of video meetings, so in this little post, I'll try to contribute with some of the technical tips which doesn't seem to be covered as much.
Network connection
While wifi seem to work fine mostly, it can cause issues. If you have the option to use a wired connection for you device used for videomeetings, do so. It will have less latency then any wifi-connection and improve the experience.
If having a wired connection isn't an option, make the most of your wifi:
5Ghz network should be preferred, as it has more bandwidth - but it has a shorter range.
Make sure to have a strong wifi signal. Moving to the garden (weather allowing) might be fun, but if it may have a significant impact on your signal strength and thus the video conference experience.
If possible be as few devices as possible on the wifi network used for video conferencing. Move IoT devices, gaming consoles, and other gear - to another network (2.4 Ghz - and use the 5Ghz network for video conferences).
The VPN Challenge
You may be required to run a VPN Client. Most Video conference provideres are aware of this as are internal security departments. It should usually not be a challenge to run the video conference through a VPN, but it may cause 3 other issues:
The VPN server/-service needs capacity (physical resources, licenses) to support all users.
The VPN service needs bandwidth to support the users connected.
The VPN service cause latency which may degrade the experience.
If the VPN service has capacity issues, you would have issues getting the VPN up and running. Your IT department should know this and either address it and provide guidance on what to do.
The VPN service bandwidth issues often follow a fix of capacity issues, as the resolution of capacity issues increase the use - and thus may exhaust the available bandwidth. I've found that monitoring available bandwidth in LANs - and even internet uplinks don't always happen and the IT department supporting the VPN service may not monitor his and be aware of issues.
Mitigation may include - don't use streaming services (Spotify, Netflix, Youtube) while connected to the VPN service (and make this a general policy for all users) - most VPNs route all traffic through them including the streaming traffic.
If the VPN service causes latency which degrades the experience to an unacceptable level, the first option should be to look into mitigating this by optimizing the local network (as described in the first section).
The double mute
Most video conference systems allow you to mute yourself. Your headset, speaker or computer probably also have a mute button available. I always suggest using both - always.
The "hardware" mute often has a clear indication, it's engaged. I'm mostly using a speaker for meetings. It has a red dotted ring on the center lit up when the mute is engaged - and people needing to say a brief message during a meeting, can see the indication and know what is said will not be broadcast to the meeting.
The reason I also use the mute in the video conferencing software is that any sound generated from your laptop will most likely be routed into the conference. Using this mute, the many notification sounds are not played in the meeting (new mail, new slack message, incoming VoIP calls) and if you do concurrent research for the meeting auto-playing full-blast sound ads will not disrupt the meeting.
Beware of the background
When adding video to the call beware of the background. If you have an empty wall behind you it's probably fine, but that's rarely the case. Make sure that people walking about in the background are aware they may be part of the video conference, make sure that items displayed in the background are fine - particular when working from home (personal stuff) or at the office (secret plans on whiteboards).
Changing the background
Making the desired physical changes to the background is always preferable, as you have complete control of the result - changing the angles, removing stuff from view, locking doors in the background for entry or what else may be suitable measures.
If this isn't feasible, video conferencing like Zoom and Microsoft Teams, have the ability to create a virtual green screen and change the background using their software. Before you do this, consider the following:
The virtual green screen does require compute power and may cause a heavy load on your computer.
Don't use animated backgrounds. Adding animated background causes even more load on your system.
Use a "suite-able background". While palm beaches, your favourite cartoon carters or other artwork may be nice and entertaining, it's also distracting. Make it boring and suitable - like a bland office or a simple pattern - and in most cases, the generic blur background in Microsoft teams is a nice default choice.
Prepare for the meeting - before the meeting
Still talking technical here, but here are a few common blunders you can avoid
Make sure you're supplying power to the device continuously.
It's not cool to force a break to find a charger to keep your device going. Also when running on battery, your device often have "undesirable behaviour" (including dimming the screen and often limiting performance in other ways).
Reboot the device.
Your IT department may have pushed some updates you haven't installed yet, and if so they often seem to like to force a reboot within a certain timeframe - which may be during the meeting.
Check the charge
If you're using wireless devices with your video conference (like keyboard, mouse, headset, touchpad) - check their charges and make sure to recharge them before the meeting as applicable.
Gear updates
Most modern laptops, phones and tables do have the capability to support video conferencing at a reasonable level. If you do find yourself in a lot of conferences, there are a few investments you may consider to upgrade the experience. Here are a few suggestions:
Get a speaker with a microphone built for online meetings.
My Sennheiser SP20ML has a microphone and a speaker. This allows me to use both hands on the keyboard, drinking coffee or whatever may be needed during meetings. It has echo-cancelling built-in and a few hardware buttons to control volume, hang up and answer calls - and mute.
Get a dedicated microphone (almost any USB mic will do).
A dedicated microphone will often remove a lot of the background noise and improve the general audio quality.
Get a webcam.
Most computers and tablets have built-in camera, but often the most basic webcams can upgrade the video quality significantly - and it also allows to find the best possible angle and avoid the "looking up your nose" view.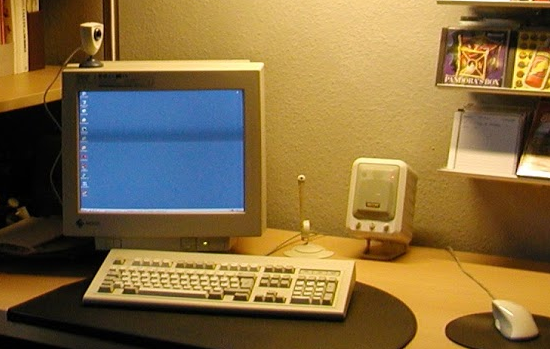 My work from home setup in 2003